Review of NHS Under Siege, the fight to defend it in the age of Covid, written and edited by John Lister and Jacky Davis, with a Foreword by Michael Rosen and over a dozen expert chapters. Published on May 19 by Merlin Press.   
Pre-orders are post free at http://merlinpress.co.uk/page/new-forthcoming 
This book is timely and important.  It is written by two of the leading campaigners of the generation with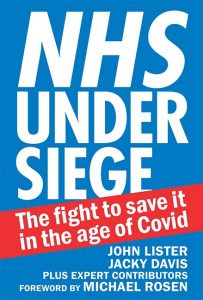 decades of experience and first-hand knowledge.  It should be a must read for anyone interested in the NHS and care policy, regardless of their politics.   
The contributions by a host of well-known experts adds to the core of the book and adds to its credibility – these are also good to read! 
The analysis is thorough.  It combines journalism and academia and the commitment of campaigners. 
The first Chapter by John Lister sets out with total clarity the impact on our NHS of the deliberate decade of austerity funding from 2010.  It exposes the vacuous claims so often trotted out by the government, and sets out page after page of evidence.   
John rightly gives credit to the previous Labour government for its investment in the NHS and rebuilding confidence and improving quality. But he also points out rightly that policies from all governments over three decades have failed to address some key issues.  The overreliance on private providers and misplaced confidence in their ability to contribute to better care.  The misguided attempts to build markets and offer choice as if health is a commodity.  Misplaced cost cutting and unnecessary outsourcing.  The lack of any coherent plans to build the workforce that is required.  And the lamentable failure to address the scandalous state of social care; ever since the huge mistake of privatising social care (with means testing) under the Thatcher government. 
The second Chapter by Jacky Davis is also an example of how to build on the evidence for an unassailable case.  It is beyond any doubt that years of austerity and neglect left our care system wholly unprepared for the pandemic and as a result many lives were unnecessarily lost or damaged.   
Referencing the excellent work of the Independent Commission set up by Keep  Our NHS Public Jacky charts the failure to ensure readiness combined with a pathetically slow and inept initial response caused huge harm.  The dismal record of waste and failure, and corruption, around use of crony contracts with friends and family around PPE and the refusal to set up an adequate system to find, test, trace, isolate and support is laid bare.  One day we must hope a proper independent public enquiry nails all this responsibility where it should be – on the government that should have been there to protect us. 
The book does not only look back.  It sets out well the current state of policies and plans.  Again, this obsession with the private sector to solve the NHS issues comes through – with all the analysis that shows how little there is actually on offer.  Current policies that pretend to be addressing the major problems that today confront the care system are demolished.   
The pretence that social care has been "fixed," and that the NHS recovery plan is anything other than vapour are examined and rejected.  As too is the most absurd – the claim that 48 new hospitals will soon be with us – even if they were (and they won't be) there would be no staff to run them! 
And the recently passed Health and Care Act gets the response it merits.  After a mauling in parliament and much revision it may do little harm, and may even reverse some of the worst of the Lansley Act, but it does nothing at all to actually address the real problems – no money, no staff, no credible plans.  Just another redisorganisation 
This book is a proper resource, with a library full of references and links to key documents.  It relies on the factual base and does not slip into the territory of conspiracies and plans to sell off the NHS to US companies.  This is wholly unnecessary as the book sets out properly the case that the threat to the NHS is from the impact of continual underfunding and denial of resources for our care generally.   
The deterioration in quality, and lengthening waits that inevitably result, drive people to use the private sector, which grows at the expense of the NHS – a vicious circle downwards.  That is unarguably what is happening and what everyone who cares about our NHS should be resisting.   
Our NHS may not be being sold off – but it is being run down, and could end up as a free but poor residual service for poor people. 
As John sets out in his advice to campaigners there is a lot we can all do.  We can use resources like this to challenge the lies and subterfuge, to call out the dishonesty – locally and nationally.  We can all get our organisations to join up to the SOSNHS Campaign, which aims to restore adequate funding, to plan for and nurture the workforce needed and to rebuild NHS resources not waste money with private sector short term alternatives. 
As someone who has been on the same 30-year journey as the authors this book confirms (almost!) everything I have learned and I thoroughly recommend it. 
Dear Reader,
If you like our content please support our campaigning journalism to protect health care for all. 
Our goal is to inform people, hold our politicians to account and help to build change through evidence based ideas.
Everyone should have access to comprehensive healthcare, but our NHS needs support. You can help us to continue to counter bad policy, battle neglect of the NHS and correct dangerous mis-infomation.
Supporters of the NHS are crucial in sustaining our health service and with your help we will be able to engage more people in securing its future.
Please donate to help support our campaigning NHS research and  journalism.